Hot Tap Sleeves & Saddles
These hot tap sleeves are fast and easy to install with simple hand tools, require no caulking or special equipment and may be used with any standard tapping valve. The steel pipe sleeve design directly reinforces without shims or pads and weighs less than heavy cast iron sleeves. The self-energizing gasket will not roll or bind on installation and the seal increases with line pressure. The generous cross section of the metal pipe sleeve assures a good seal even on rough or pitted pipe. These tapping sleeves consist of two sections of heavy welded steel that bolt together on the pipe and seal against a concave wedge gasket around the tap opening. The outlet half has a recessed flat faced flange to mate with standard tapping valves per MSS SP60 up through 12" size-on-size. For tap sizes 14" and above, flanges can be furnished to accommodate the valve requirements. The outlet half also has a 3/4" npt test plug.
Material Specifications: Body is made of carbon steel, Flanges of AWWA C207 Class D, ANSI 150 lb. drilling, Gasket is Nitrile, Bolts, nuts, and washers are of a high strength low alloy steel with heavy semi-finished hexagon nuts, and the Finish is fusion bonded Fexi-Coat epoxy, coated to an average of 12 mil thickness.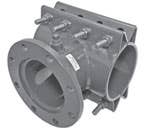 Hot Tap Sleeves, 910-4 Series
| Nominal Size | Pipe OD Range | Pressure, PSI | Material, Body | Material, Seal | Finish | Shipping Wt. | Item Number | Price | Qty | Action |
| --- | --- | --- | --- | --- | --- | --- | --- | --- | --- | --- |
| Pipe X Flange 24"X12" (610mmX305mm) | 24.82"-25.52" (630mm-648mm) | Working Pressure 175 psi (12.06 bar) | Carbon Steel | Nitrile | Epoxy | 284 Lb (128.82 Kg) | 910-4324-122482 | | | |
| Pipe X Flange 24"X10" (610mmX254mm) | 24.82"-25.52" (630mm-648mm) | Working Pressure 175 psi (12.06 bar) | Carbon Steel | Nitrile | Epoxy | 258 Lb (117.03 Kg) | 910-4324-102482 | | | |
| Pipe X Flange 24"X8" (610-406mmX203mm) | 24.82"-25.52" (630mm-648mm) | Working Pressure 175 psi (12.06 bar) | Carbon Steel | Nitrile | Epoxy | 197 Lb (89.36 Kg) | 910-4324-082482 | | | |
| Pipe X Flange 20"X12" (508mmX305mm) | 21.51"-22.15" (546mm-563mm) | Working Pressure 175 psi (12.06 bar) | Carbon Steel | Nitrile | Epoxy | 281 Lb (127.46 Kg) | 910-4320-122151 | | | |
| Pipe X Flange 20"X10" (508mmX254mm) | 21.51"-22.15" (546mm-563mm) | Working Pressure 175 psi (12.06 bar) | Carbon Steel | Nitrile | Epoxy | 232 Lb (105.23 Kg) | 910-4320-102151 | | | |
| Pipe X Flange 20"X8" (508mmX203mm) | 21.51"-22.15" (546mm-563mm) | Working Pressure 175 psi (12.06 bar) | Carbon Steel | Nitrile | Epoxy | 180 Lb (81.65 Kg) | 910-4320-082151 | | | |
| Pipe X Flange 18"X12" (457mmX305mm) | 19.41"-20.01" (493mm-508mm) | Working Pressure 175 psi (12.06 bar) | Carbon Steel | Nitrile | Epoxy | 245 Lb (111.13 Kg) | 910-4318-121941 | | | |
| Pipe X Flange 18"X10" (457mmX254mm) | 19.41"-20.01" (493mm-508mm) | Working Pressure 175 psi (12.06 bar) | Carbon Steel | Nitrile | Epoxy | 148 Lb (97.98 Kg) | 910-4318-101941 | | | |
| Pipe X Flange 18"X8" (457mmX203mm) | 19.41"-20.01" (493mm-508mm) | Working Pressure 175 psi (12.06 bar) | Carbon Steel | Nitrile | Epoxy | 162 Lb (73.48 Kg) | 910-4318-081941 | | | |
| Pipe X Flange 16"X10" (406mmX254mm) | 17.88"-18.43" (454mm-468mm) | Working Pressure 175 psi (12.06 bar) | Carbon Steel | Nitrile | Epoxy | 216 Lb (97.98 Kg) | 910-4316-101788 | | | |
| Pipe X Flange 14-16"X10" (356-406mmX254mm) | 15.73"-16.22" (400mm-412mm) | Working Pressure 175 psi (12.06 bar) | Carbon Steel | Nitrile | Epoxy | 204 Lb (92.53 Kg) | 910-4316-101573 | | | |
| Pipe X Flange 16"X8" (406mmX203mm) | 17.88"-18.43" (454mm-468mm) | Working Pressure 175 psi (12.06 bar) | Carbon Steel | Nitrile | Epoxy | 162 Lb (73.48 Kg) | 910-4316-081788 | | | |
| Pipe X Flange 14-16"X 8" (356-406mmX203mm) | 17.33"-17.87" (440mm-454mm) | Working Pressure 175 psi (12.06 bar) | Carbon Steel | Nitrile | Epoxy | 162 Lb (73.5 Kg) | 910-4316-081733 | | | |
| Pipe X Flange 14-16"X8" (356-406mmX203mm) | 15.73"-16.22" (400mm-412mm) | Working Pressure 175 psi (12.06 bar) | Carbon Steel | Nitrile | Epoxy | 148 Lb (67.13 Kg) | 910-4316-081573 | | | |
| Pipe X Flange 14-16"X6" (356-406mmX152mm) | 15.73"-16.22" (400mm-412mm) | Working Pressure 175 psi (12.06 bar) | Carbon Steel | Nitrile | Epoxy | 111 Lb (50.35 Kg) | 910-4316-061573 | | | |
| Pipe X Flange 12"X8" (305mmX203mm) | 12.42"-12.88" (315mm-327mm) | Working Pressure 175 psi (12.06 bar) | Carbon Steel | Nitrile | Epoxy | 170 Lb (77.11 Kg) | 910-4312-081242 | | | |
| Pipe X Flange 12"X6" (305mmX152mm) | 12.42"-12.88" (315mm-327mm) | Working Pressure 175 psi (12.06 bar) | Carbon Steel | Nitrile | Epoxy | 135 Lb (61.24 Kg) | 910-4312-061242 | | | |
| Pipe X Flange 10"X8" (254mmX203mm) | 10.45"-10.88" (265mm-276mm) | Working Pressure 175 psi (12.06 bar) | Carbon Steel | Nitrile | Epoxy | 125 Lb (56.70 Kg) | 910-4310-081045 | | | |
| Pipe X Flange 10"X6" (254mmX152mm) | 10.45"-10.88" (265mm-276mm) | Working Pressure 175 psi (12.06 bar) | Carbon Steel | Nitrile | Epoxy | 94 Lb (42.64 Kg) | 910-4310-061045 | | | |
| Pipe X Flange 10"X4" (254mmX102mm) | 10.45"-10.88" (265mm-276mm) | Working Pressure 175 psi (12.06 bar) | Carbon Steel | Nitrile | Epoxy | 82 Lb (37.19 Kg) | 910-4310-041045 | | | |
| Pipe X Flange 8"X6" (203mmX152mm) | 8.36"-8.75" (212mm-222mm) | Working Pressure 175 psi (12.06 bar) | Carbon Steel | Nitrile | Epoxy | 87 Lb (39.46 Kg) | 910-4308-060836 | | | |
| Pipe X Flange 8"X4" (203mmX102mm) | 8.36"-8.75" (212mm-222mm) | Working Pressure 175 psi (12.06 bar) | Carbon Steel | Nitrile | Epoxy | 78 Lb (35.38 Kg) | 910-4308-040836 | | | |
| Pipe X Flange 6"X6" (152mmX152mm) | 6.57"-6.73" (167mm-171mm) | Working Pressure 175 psi (12.06 bar) | Carbon Steel | Nitrile | Epoxy | 76 Lb (34.47 Kg) | 910-4306-060657 | | | |
| Pipe X Flange 6"X4" (152mmX102mm) | 6.57" - 6.73" (167mm-171mm) | Working Pressure 175 psi (12.06 bar) | Carbon Steel | Nitrile | Epoxy | 71 Lb (32.21 Kg) | 910-4306-040657 | | | |
| Pipe X Flange 6"X3" (152mmX76mm) | 4.50" (114mm) | Working Pressure 175 psi (12.06 bar) | Carbon Steel | Nitrile | Epoxy | 34 Lb (15.42 Kg) | 910-4306-030450 | | | |
| Pipe X Flange 4"X4" (102mmX102mm) | 4.50" (114mm) | Working Pressure 175 psi (12.06 bar) | Carbon Steel | Nitrile | Epoxy | 34 Lb (15.42 Kg) | 910-4304-040450 | | | |
| Pipe X Flange 4"X3" (102mmX76mm) | 4.50" (114mm) | Working Pressure 175 psi (12.06 bar) | Carbon Steel | Nitrile | Epoxy | 34 Lb (15.42 Kg) | 910-4304-030450 | | | |