Pipe Plug, Hand Tight 2 Seals, 149-2 Series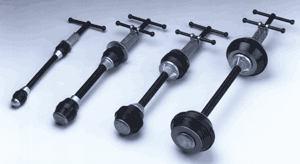 Flexible Double Test Plugs
1-1/2" - 8" Diameter, Center to Center Distances to 96". One double mechanical test plug does the work of three plugs. Both balls on the 1-1/2" and 2" plugs release with the same handle, the lower ball, however, releases before the upper ball. The 3" - 8" double test ball plug sizes have two handles so each ball can be released separately.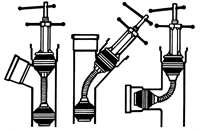 Typical Installations
The ball is molded of pure rubber, molded parallel ridges insure perfect seal. Castings are of non-rust aluminum. Handles are of coated steel. All parts are replaceable. Blowouts and water damage are prevented because the double mechanical test plug allows the system to be drained prior to its removal. The flexible spring bends to any angle to effectively test from any type fitting.

Pipe Plug, Hand Tight 2 Seals, 149-2 Series
| Image | Pipe Size, Nominal | Dia. Max | Dia. Min | Pipeline Max PSI | Pipeline Max Head | Seal, Center To Center, IN | Shipping Wt. | Item Number | Price | Qty | Action |
| --- | --- | --- | --- | --- | --- | --- | --- | --- | --- | --- | --- |
| | 8" (203mm) | 8.25" (210mm) | 7.85" (199mm) | 5 psi (0.34 bar) | 11 ft (3.35 m) | 22" (558.8mm) | 20 Lb (9.07 Kg) | 149-208- | | | |
| | 6" (152mm) | 6.5" (165mm) | 5.85" (149mm) | 10 psi (0.68 bar) | 23 ft (7.01 m) | 16" (406.4mm) | 11 Lb (4.99 Kg) | 149-206- | | | |
| | 5" (127mm) | 5.25" (133mm) | 4.75" (121mm) | 10 psi (0.68 bar) | 23 ft (7.01 m) | 16" (406.4mm) | 8 Lb (3.63 Kg) | 149-205- | | | |
| | 4" (102mm) | 4.15" (105mm) | 3.75" (95mm) | 25 psi (1.72 bar) | 57 ft (17.37 m) | 12" (304.8mm) | 8 Lb (3.63 Kg) | 149-204- | | | |
| | 3" (76mm) | 3.25" (83mm) | 2.75" (70mm) | 25 psi (1.72 bar) | 57 ft (17.37 m) | 60 (1524mm) | 6 Lb (2.72 Kg) | 149-203-60 | | | |
| | 3" (76mm) | 3.25" (83mm) | 2.75" (70mm) | 25 psi (1.72 bar) | 57 ft (17.37 m) | 12" (304.80mm) | 6 Lb (2.72 Kg) | 149-203- | | | |
| | 2" (51mm) | 2.1" (53mm) | 1.8" (46mm) | 25 psi (1.72 bar) | 57 ft (17.37 m) | 12" (304.80mm) | 3 Lb (1.36 Kg) | 149-202- | | | |
| | 1.5" (38mm) | 1.75" (44mm) | 1.55" (39mm) | 25 psi (1.72 bar) | 57 ft (17.37 m) | 12" (304.8mm) | 2 Lbs (0.91 Kg) | 149-201- | | | |