Safety Gags for Mechanical Pipe Plug

Safety Gags, For Mechanical Pipe Plug
These Safety Gags clamp to the outside diameter of standard pipe sizes for use with mechanical test plugs. They are made with painted carbon steel with plated chain.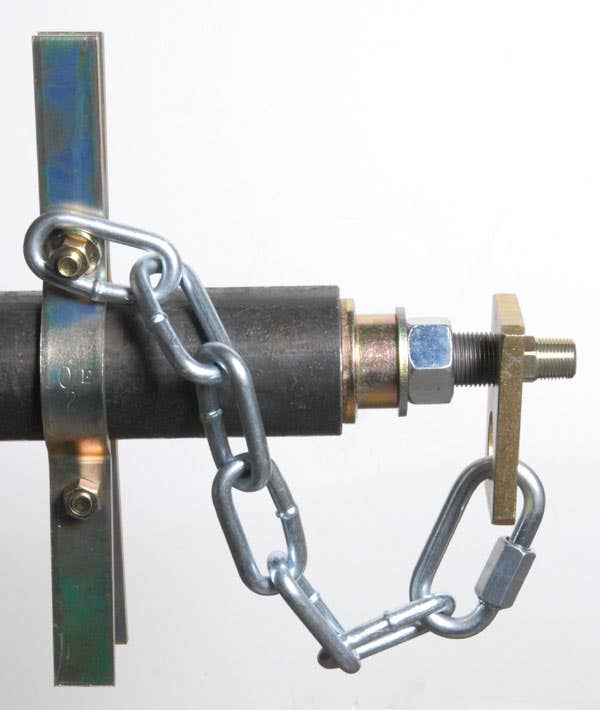 Installation Procedure:
Warning: These are general instructions only. Please refer to the appropriate operating procedures for the test plug being utilized. Mechanical Test Plugs are designed to be self-sealing and self-gripping, which facilitate both the seal and the gripper to become tighter as pressure increases. The extra squeeze of the seal and gripper caused by the test pressure can be detected as minor movement of the shaft. Installing the Safety Gag with a tight chain may limit or prevent the small movement of the test plug shaft as pressure is increasing, and subsequently limit or prevent the self-sealing and self-gripping feature of our test plugs. The amount of slack in the chain as well as the position of the installed plug should be observed from a safe distance to insure no appreciable movement of the plug has occurred. Should movement be noted, the test should be stopped and all pressure released immediately.
Install Safety Valve Gag pipe clamp onto pipe being tested. Safety Gags are to be installed with some slack so that movement of the shaft is not prohibited as pressure increases during testing.
Tighten bolts to insure slippage will not occur.
Insert test plug into tube or pipe. Follow appropriate operating procedures for the plugs being utilized, and install plugs per recommended torque values using a calibrated torque wrench.
Prior to pressurizing the system, slip the link over the shaft end. Safety Gags 8" and larger are equipped with two chain and link assemblies. The links are stamped with the shaft sizes they can accommodate. Each link can do at least two sizes of shafts. Insure you have the appropriate link set-up before using. Unscrew the chain connector and switch the link around if necessary.
Continue with appropriate operating procedures.
Note: The gags are not pressure rated, they are used primarily to prevent losing the plug down the pipe. They may help prevent the plug from becoming a projectile but we make rated plug restraints for most pipelines and pressures. Please provide the pipe specifications and pressure that the plug will restrain and we will quote accordingly.