Pipe Plug, ABS Pipe End, 143-9 Series
These Plugs can be used in a variety of applications including DWV (drain, waste and vent) testing and stack testing.
End of pipe design won't fall in, whereas the inside of pipe design allows you to locate the plug inside the pipe as far as you need.
Time tested, this Plug remains one of the most popular mechanical plugs on the market.
Features:
Ideal for sewer testing and long-term applications
Plug made with glass-reinforced ABS plastic
End of pipe design seals only at the end of a pipe
Inside of pipe design seals inside pipe as far as needed

Equipped with:
Easy to install extra large zinc wing nut - won't rust
Natural rubber o-ring
Galvanized carriage bolt to prevent corrosion
Always block plugs when conducting air tests
Mechanical Pipe Plugs Without Integral Restraint Generic Operating Instructions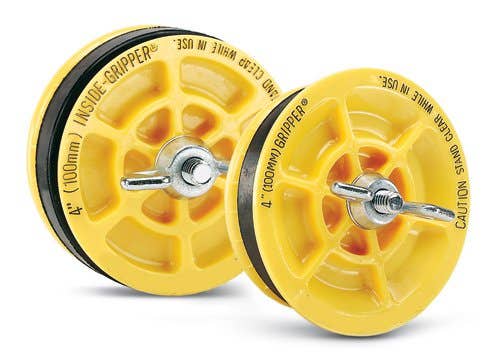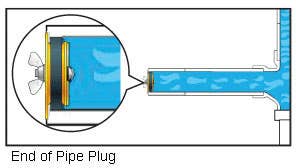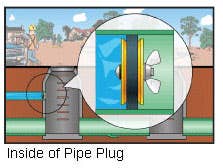 Pipe Plug, ABS Pipe End, 143-9 Series
| Pipe Size, Nominal | Dia. Max | Dia. Min | By-Pass | Pipeline Max PSI | Pipeline Max Head | Shipping Wt. | Item Number | Price | Qty | Action |
| --- | --- | --- | --- | --- | --- | --- | --- | --- | --- | --- |
| 8" (203mm) | 8.03" (204mm) | 7.7" (196mm) | None | 17 psi (1.19 bar) | 40 ft (12.19 m) | 3 Lbs (1.36 Kg) | 143-9080-E | | | |
| 6" (152mm) | 6.08" (154mm) | 5.77" (147mm) | None | 17 psi (1.19 bar) | 40 ft (12.19 m) | 2 Lbs (0.91 Kg) | 143-9060-E | | | |
| 4" (102mm) | 4.06" (103mm) | 3.8" (97mm) | None | 17 psi (1.19 bar) | 40 ft (12.19 m) | 1 Lb (0.45 Kg) | 143-9040-E | | | |
| 3" (76mm) | 3.1" (79mm) | 2.8" (71mm) | None | 17 psi (1.19 bar) | 40 ft (12.19 m) | 1 Lb (0.45 Kg) | 143-9030-E | | | |
| 2" (51mm) | 2.17" (55mm) | 1.9" (48mm) | None | 17 psi (1.19 bar) | 40 ft (12.19 m) | 1 Lb (0.45 Kg) | 143-9020-E | | | |
| 1-1/2" (38mm) | 1.65" (42mm) | 1.48" (38mm) | None | 17 psi (1.19 bar) | 40 ft (12.19 m) | 1 Lb (0.45 Kg) | 143-9015-E | | | |
Pipe Plug, ABS Inside Pipe, 143-9 Series
| Pipe Size, Nominal | Dia. Max | Dia. Min | By-Pass | Pipeline Max PSI | Pipeline Max Head | Shipping Wt. | Item Number | Price | Qty | Action |
| --- | --- | --- | --- | --- | --- | --- | --- | --- | --- | --- |
| 8" (203mm) | 8.03" (204mm) | 7.7" (196mm) | None | 17 psi (1.19 bar) | 40 ft (12.19 m) | 3 Lbs (1.36 Kg) | 143-9080- | | | |
| 6" (152mm) | 6.08" (154mm) | 5.77" (147mm) | None | 17.3 psi (1.19 bar) | 40 ft (12.19 m) | 2 Lbs (0.91 Kg) | 143-9060- | | | |
| 4" (102mm) | 4.06" (103mm) | 3.8" (97mm) | None | 17.3 psi (1.19 bar) | 40 ft (12.19 m) | 1 Lb (0.45 Kg) | 143-9040- | | | |