Pipeline Joint Testers, 24in to 120in
An efficient way to test joints!
These pipeline joint testers are fast, safe, and easy to use - a five second test can determine the joint integrity. Designed to test large diameter, installed, pre-cast concrete pipe as described in ASTM C1103. Ready to test with water or air straight from the factory - no modifications are needed. Pre-test before backfilling. Capable of testing to 15 psi air or 50 psi water.
These testers are made with Natural rubber.
For 21" through 39" instructions click here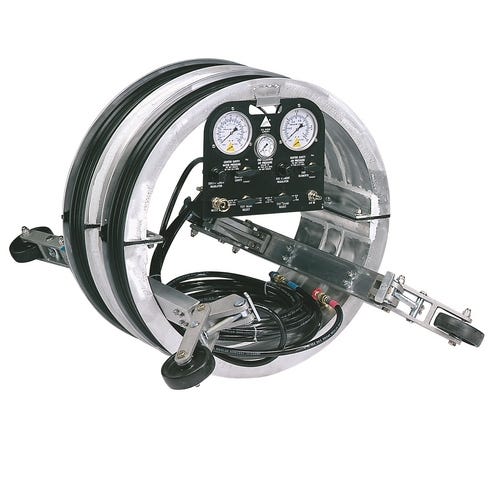 Features:
Sleeveless, lightweight aluminum design allows for easy assembly in manholes
Independent, adjustable wheels - easy to move
Quick-connect control panel is simple to install and remove, plus the top-mountng feature won't interfere with laser usage
Concrete pipe testing machine available with or without control panel and wheel kit
Replacement end elements are available
Recommended for testing pipe 24" and larger

Joint Tester, Inflatable Seal, 145-8 Series
| Dia. Max | Dia. Min | Press. Pipeline Max | Shipping Wt. | Item Number | Price | Qty | Action |
| --- | --- | --- | --- | --- | --- | --- | --- |
| 120" (3048mm) | 118" (2997mm) | 15 PSI Air 50 PSI Water | 600 Lb (272.16 Kg) | 145-8120- | | | |
| 108" (2743mm) | 106" (2692mm) | 15 PSI Air 50 PSI Water | 565 Lb (256.28 Kg) | 145-8108- | | | |
| 102" (2590mm) | 100" (2540mm) | 15 PSI Air 50 PSI Water | 565 Lb (256.28 Kg) | 145-8102- | | | |
| 96" (2438mm) | 94" (2388mm) | 15 PSI Air 50 PSI Water | 565 Lb (256.28 Kg) | 145-8096- | | | |
| 90" (2286mm) | 88" (2235mm) | 15 PSI Air 50 PSI Water | 503 Lb (228.16 Kg) | 145-8090- | | | |
| 84" (2134mm) | 82" (2083mm) | 15 PSI Air 50 PSI Water | 510 Lb (231.33 Kg) | 145-8084- | | | |
| 78" (1981mm) | 76" (1930mm) | 15 PSI Air 50 PSI Water | 462 Lb (209.56 Kg) | 145-8078- | | | |
| 72" (1829mm) | 70" (1778mm) | 15 PSI Air 50 PSI Water | 420 Lb (190.51 Kg) | 145-8072- | | | |
| 66" (1676mm) | 64" (1626mm) | 15 PSI Air 50 PSI Water | 297 Lb (134.72 Kg) | 145-8066- | | | |
| 60" (1524mm) | 58" (1473mm) | 15 PSI Air 50 PSI Water | 267 Lb (121.11 Kg) | 145-8060- | | | |
| 54" (1372mm) | 52" (1321mm) | 15 PSI Air 50 PSI Water | 262 Lb (118.84 Kg) | 145-8054- | | | |
| 48" (1219mm) | 46" (1168mm) | 15 PSI Air 50 PSI Water | 257 Lb (116.57 Kg) | 145-8048- | | | |
| 42" (1067mm) | 40" (1016mm) | 15 PSI Air 50 PSI Water | 263 Lb (119.3 Kg) | 145-8042- | | | |
| 39" (991mm) | 37" (940mm) | 15 PSI Air 50 PSI Water | 237 Lb (107.5 Kg) | 145-8039- | | | |
| 36" (914mm) | 34" (864mm) | 15 PSI Air 50 PSI Water | 232 Lbs (105.23 Kg) | 145-8036- | | | |
| 33" (838mm) | 31" (787mm) | 15 PSI Air 50 PSI Water | 222 Lb (100.7 Kg) | 145-8033- | | | |
| 30" (762mm) | 28" (711mm) | 15 PSI Air 50 PSI Water | 212 Lb (96.16 Kg) | 145-8030- | | | |
| 27" (686mm) | 25" (635mm) | 15 PSI Air 50 PSI Water | 202 Lb (91.63 Kg) | 145-8027- | | | |
| 24" (610mm) | 22" (559mm) | 15 PSI Air 50 PSI Water | 192 Lb (87.09 Kg) | 145-8024- | | | |