Sewer Flusher Municipal Petersen
Connect to Fire Hydrant Hose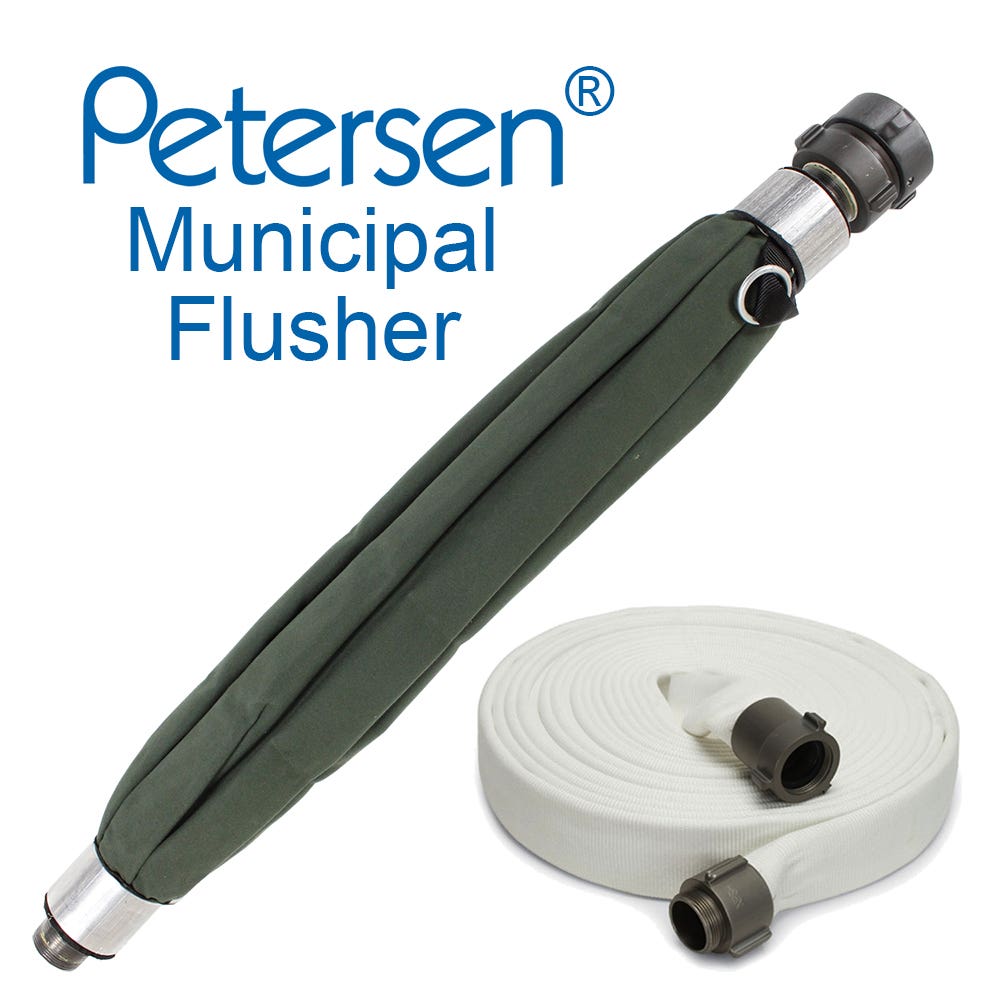 Manufactured with heavy industrial treated woven fabric.
Multi size configuration allows use in smaller than the rated size.
Leak back may increase for smaller size pipes.
Light Weight Allows one person insertion for most sizes and applications.
Flexibility allows easy navigation through bends and small openings.Under Water Placement is easier due to the small deflated size
Use as a plug with water or air by capping the outlet
Custom Configurations available for most size, temperature, chemical, and pressure requirements.
Browse our collection of hydraulic flushers today!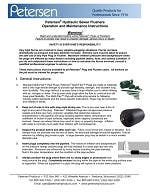 Instruction Manual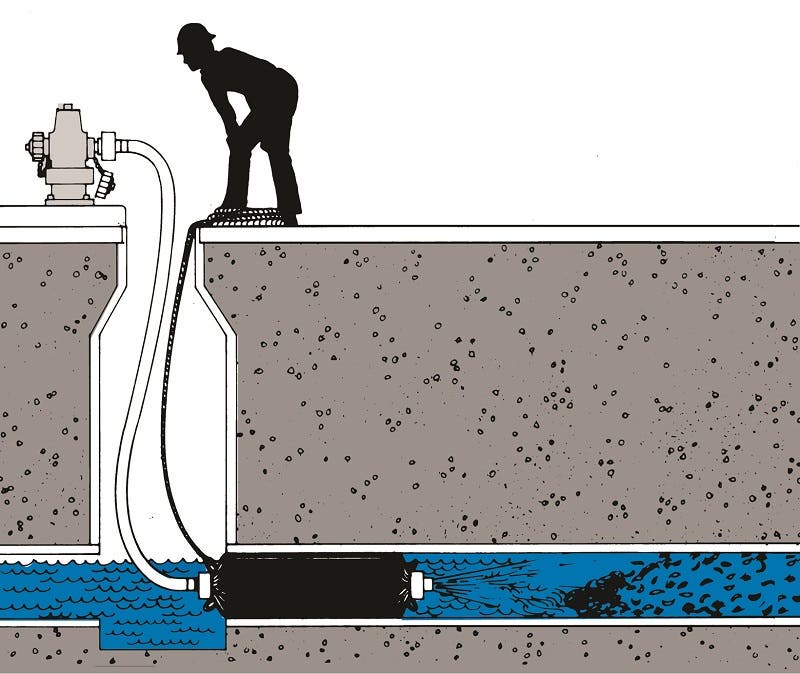 Flush Clogged Sewers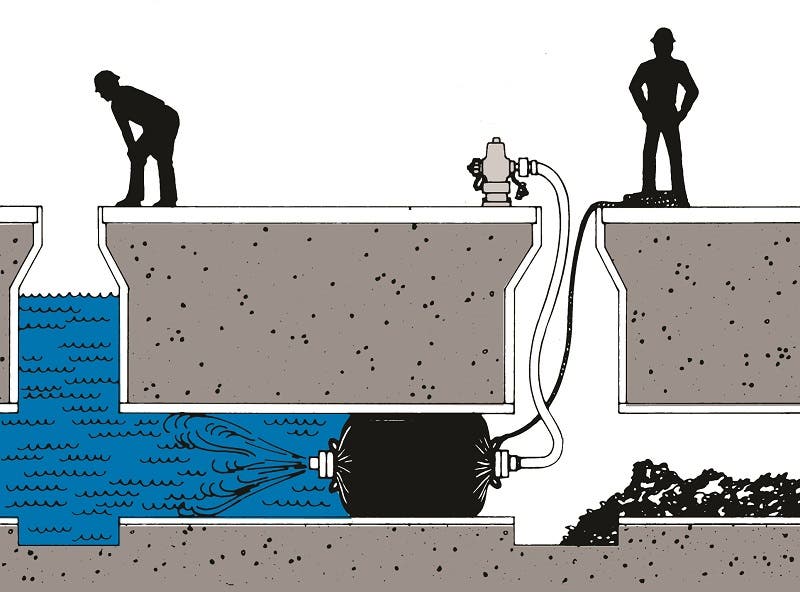 Clear Debris and Sand

Hose Inlet Connections

Hose Outlet Connections

Sewer Flusher, Municipal
| Image | Dia. Max | Dia. Min | Press., Max. Flushing, PSI | Connection, Inlet | Outlet Connection | Length Deflated | Shipping Wt. | Item Number | Price | Qty | Action |
| --- | --- | --- | --- | --- | --- | --- | --- | --- | --- | --- | --- |
| | 14" (355.6mm) | 5" (127mm) | 100 psi (6.89 bar) | 2.5" NH | 2" MNPT | 45" (1143mm) | 14 Lb (6.35 Kg) | 107-014-3 | | | |
| | 12" (304.8mm) | 5" (127mm) | 100 psi (6.89 bar) | 2" MNPT TO 2.5" Female NH | 2" MNPT | 42" (1066.8mm) | 21 Lb (9.53 Kg) | 107-012-3 | | | |
| | 12" (304.8mm) | 4" (101.6mm) | 100 psi (6.89 bar) | 2" NPSM Female Hose Coupling | 1-1/4" MNPT | 42" (1066.8mm) | 13 Lb (5.90 Kg) | 107-012-2 | | | |
| | 10" (254mm) | 5" (127mm) | 100 psi (6.89 bar) | 2" MNPT TO 2.5" Female NH | 1-1/2" MNPT | 37" (939.8mm) | 13 Lb (5.90 Kg) | 107-010-3 | | | |
| | 10" (254mm) | 4" (101.6mm) | 100 psi (6.89 bar) | 2" NPSM Female Hose Coupling | 1-1/4" MNPT | 37" (939.8mm) | 8 Lb (3.63 Kg) | 107-010-2 | | | |
| | 8" (203.2mm) | 5" (127mm) | 100 psi (6.89 bar) | 2" MNPT TO 2.5" Female NH | 1-1/2" MNPT | 25" (635mm) | 9 Lb (4.08 Kg) | 107-008-3 | | | |
| | 8" (203.2mm) | 4.5" (114.3mm) | 100 psi (6.89 bar) | 2" NPSM Female Hose Coupling | 1" MNPT | 25" (635mm) | 7 Lb (3.18 Kg) | 107-008-2 | | | |
| | 8" (203.2mm) | 4" (101.6mm) | 100 psi (6.89 bar) | 1.5" NPSM Female Hose Coupling | 1" MNPT | 25" (635mm) | 6 Lb (2.72 Kg) | 107-008-1 | | | |
| | 6" (152.4mm) | 5" (127mm) | 100 psi (6.89 bar) | 2" MNPT TO 2.5" Female NH | 1-1/2" MNPT | 22" (558.8mm) | 8 Lb (3.63 Kg) | 107-006-3 | | | |
| | 6" (152.4mm) | 4.5" (114.3mm) | 100 psi (6.89 bar) | 2" NPSM Female Hose Coupling | 1" MNPT | 22" (558.8mm) | 6 Lb (2.72 Kg) | 107-006-2 | | | |
| | 6" (152.4mm) | 4" (101.6mm) | 100 psi (6.89 bar) | 1.5" NPSM Female Hose Coupling | 1" MNPT | 22" (558.8mm) | 5 Lb (2.27 Kg) | 107-006-1 | | | |
| | 4" (101.6mm) | 3.5" (88.9mm) | 100 psi (6.89 bar) | 2" MNPT TO 2.5" Female NH | 1-1/2" MNPT | 17" (431 mm) | 7 Lb (3.18 Kg) | 107-004-3 | | | |
| | 4" (101.6mm) | 3" (76.2mm) | 100 psi (6.89 bar) | 2" NPSM Female Hose Coupling | 1" MNPT | 17" (431.8mm) | 4 Lb (1.81 Kg) | 107-004-2 | | | |
| | 4" (101.6mm) | 3" (76.2mm) | 100 psi (6.89 bar) | 1.5" NPSM Female Hose Coupling | 1" MNPT | 17" (431.8mm) | 4 Lb (1.81 Kg) | 107-004-1 | | | |