Pipe Plug, Med PSI Test, Bypass 146-9 Series
Bolt plug sizes smaller than .375" come standard with Neoprene seals, others are Nitrile seals for hydrocarbon resistance. Plated carbon steel. Single Shaft. Tubing plugs may be customized for most size, pressure, chemical, and pressure requirements.
See custom configuration examples
Simple, reliable testing of a pipeline.
Typical Applications: Designed for simple, reliable testing of pipe and tubing to 300 psig (20.7 bar), without the tube wall damage associated with other test plugs. That's because our Bolt Type Medium Pressure Plugs feature a nitrile seal - the only part of the plug that comes in contact with the tube I.D. To use, simply install into the open end of the pipe or tube and tighten the large compression nut to expand the seal element. Then begin testing.
Note, caps are not included with plugs - see link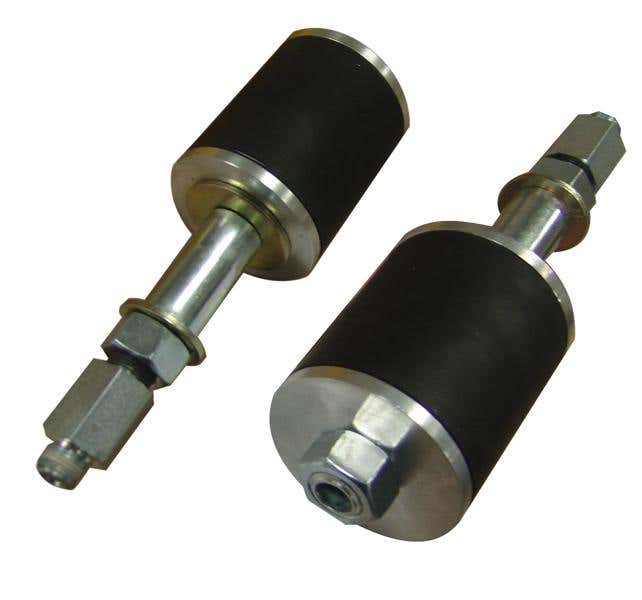 Other sizes, pressure ratings and seal material available.
Specifications subject to change without notice
Also available in custom configurations with a variety of seal material including Nitrile, EPDM, Viton, Silicone, and Polyurethane for most size, pressure, temperature, and chemical requirements. Generally made with an aluminum body and steel hardware but are available with many other materials for your specific requirements. They are available with or without by-pass (vent), valves, remote placement systems, sub sea installation, and many other configurations.
Please call us and let us quote on your specific requirements 800-926-1926
Hover image to stop rotation, use arrows to navigate manually

Pipe Plug, Med PSI Test, Bypass 146-9 Series
| Image | Pipe Size, Nominal | Dia. Max | Dia. Min | By-Pass | Pipeline Max PSI | Pipeline Max Head | Shipping Wt. | Item Number | Price | Qty | Action |
| --- | --- | --- | --- | --- | --- | --- | --- | --- | --- | --- | --- |
| | | 10" (254mm) | 9.95" (253mm) | 3/4" NPT | 10 psi (0.68 bar) | 23 ft (7.01 m) | 40 Lb (18.14 Kg) | 146-91000- | | | |
| | | 8" (203mm) | 7.95" (202mm) | 3/4" MNPT | 15 psi (1.03 bar) | 34 ft (10.36 m) | 28.5 Lb (12.93 Kg) | 146-90800- | | | |
| | | 6" (152mm) | 5.95" (151mm) | 1/2" MNPT | 25 psi (1.72 bar) | 58 ft (17.67 m) | 13 Lb (5.9 Kg) | 146-90600- | | | |
| | | 5.5" (140mm) | 5.34" (136mm) | 1/2" MNPT | 25 psi (1.72 bar) | 58 ft (17.67 m) | 13 Lb (5.9 Kg) | 146-90550- | | | |
| | | 5" (127mm) | 4.95" (126mm) | 1/2" MNPT | 25 psi (1.72 bar) | 58 ft (17.67 m) | 13 Lbs (5.9 Kg) | 146-90500- | | | |
| | | 4.5" (114mm) | 4.45" (113mm) | 3/8" MNPT | 40 psi (2.75 bar) | 92 ft (28.04 m) | 4.5 Lbs (2.04 Kg) | 146-90450- | | | |
| | 4" Sch 40, Sch 80 | 4.06" (103mm) | 3.76" (96mm) | 3/8" MNPT | 80 psi (5.51 bar) | 185 ft (56.38 m) | 4.5 Lbs (2.04 Kg) | 146-90406- | | | |
| | 3-1/2" Sch 40 | 3.76" (96mm) | 3.51" (89mm) | 3/8" MNPT | 80 psi (5.51 bar) | 185 ft (56.38 m) | 4.5 Lbs (2.04 Kg) | 146-90376- | | | |
| | 3-1/2" Sch 80 or 4" Sch 160 | 3.51" (89mm) | 3.26" (83mm) | 3/8" MNPT | 80 psi (5.51 bar) | 185 ft (56.38 m) | 4.5 Lbs (2.04 Kg) | 146-90351- | | | |
| | | 3.26" (83mm) | 3.07" (78mm) | 3/8" MNPT | 80 psi (5.51 bar) | 185 ft (56.38 m) | 2.75 Lbs (1.25 Kg) | 146-90326- | | | |
| | 3" Sch 40, Sch 80 | 3.07" (78mm) | 2.88" (73mm) | 3/8" MNPT | 100 psi (6.89 bar) | 231 ft (70.41 m) | 2.75 Lbs (1.25 Kg) | 146-90307- | | | |
| | | 3.15" (80mm) | 2.85" (72mm) | 3/8" MNPT | 100 psi (6.89 bar) | 231 ft (70.41 m) | 2.75 Lbs (1.25 Kg) | 146-9030 - | | | |
| | | 2.88" (73mm) | 2.69" (68mm) | 3/8" MNPT | 100 psi (6.89 bar) | 231 ft (70.41 m) | 2.75 Lbs (1.25 Kg) | 146-90288- | | | |
| | 3" Sch 160 | 2.69" (68mm) | 2.51" (64mm) | 3/8" MNPT | 100 psi (6.89 bar) | 231 ft (70.41 m) | 2.75 Lbs (1.25 Kg) | 146-90269- | | | |
| | 2-1/2" Sch 40, Sch 80 | 2.51" (64mm) | 2.31" (59mm) | 3/8" MNPT | 100 psi (6.89 bar) | 231 ft (70.41 m) | 2.75 Lbs (1.25 Kg) | 146-90250- | | | |
| | | 2.31" (59mm) | 2.18" (55mm) | 3/8" MNPT | 100 psi (6.89 bar) | 231 ft (70.41 m) | 2.75 lbs (1.25 Kg) | 146-90231- | | | |
| | 2" Sch 40 or 2-1/2" Sch 160 | 2.18" (55mm) | 2.01" (51mm) | 3/8" MNPT | 100 psi (6.89 bar) | 231 ft (70.41 m) | 2.75 Lb (1.25 Kg) | 146-90218- | | | |
| | 2" Sch 80 | 2.01" (51mm) | 1.88" (48mm) | 3/8" MNPT | 150 psi (10.34 bar) | 347 ft (105.76 m) | 1 Lb (0.45 Kg) | 146-90200- | | | |
| | | 1.88" (48mm) | 1.76" (45mm) | 3/8" MNPT | 150 psi (10.34 bar) | 347 ft (105.76 m) | 1 Lb (0.45 Kg) | 146-90188- | | | |
| | 2" Sch 160 | 1.76" (45mm) | 1.63" (41mm) | 3/8" MNPT | 150 psi (10.34 bar) | 347 ft (105.76 m) | 1 Lb (0.45 Kg) | 146-90175- | | | |
| | 1-1/2" Sch 40 | 1.63" (41mm) | 1.51" (38mm) | 3/8" MNPT | 150 psi (10.34 bar) | 347 ft (105.76 m) | 1 Lb (0.45 Kg) | 146-90163- | | | |
| | 1-1/2" Sch 80 | 1.51" (38mm) | 1.39" (35mm) | 1/4" MNPT | 200 psi (13.78 bar) | 462 ft (140.81 m) | 1 Lb (0.45 Kg) | 146-90150- | | | |
| | 1-1/4" Sch 40, Sch 80 or 1-1/2" Sch 160 | 1.39" (35mm) | 1.26" (32mm) | 1/4" MNPT | 200 psi (13.78 bar) | 462 ft (140.81 m) | 1 Lb (0.45 Kg) | 146-90138- | | | |
| | 1-1/4" Sch 160 | 1.26" (32mm) | 1.13" (29mm) | 1/4" MNPT | 200 psi (13.78 bar) | 462 ft (140.81 m) | 1 Lb (0.45 Kg) | 146-90125- | | | |
| | 1" Sch 40 | 1.13" (29mm) | 1.01" (26mm) | 1/4" MNPT | 250 psi (17.23 bar) | 577 FT (175.86 m) | 1 Lb (0.45 Kg) | 146-90113- | | | |
| | 1" Sch 80 | 1.01" (26mm) | 0.89" (22.6mm) | 1/4" MNPT | 250 psi (17.23 bar) | 577 ft (175.86 m) | 1 Lb (0.45 Kg) | 146-90100- | | | |
| | | 0.89" (22.6mm) | 0.83" (21.08mm) | 1/4" MNPT | 250 psi (17.23 bar) | 577 ft (175.86 m) | 1 Lb (0.45 Kg) | 146-90088- | | | |
| | 3/4" Sch 40 | 0.83" (21.08mm) | 0.76" (19.3mm) | 1/4" MNPT | 250 psi (17.23 bar) | 577 ft (175.86 m) | 1 Lb (0.45 Kg) | 146-90083- | | | |
| | 3/4" Sch 80 | 0.76" (19.3mm) | 0.69" (17.52mm) | 1/4" MNPT | 250 psi (17.23 bar) | 577 ft (175.86 m) | 1 Lb (0.45 Kg) | 146-90075- | | | |
| | | 0.69" (17.52mm) | 0.625" (15.87mm) | 1/4" MNPT | 250 psi (17.23 bar) | 577 ft (175.86 m) | 1 Lb (0.45 Kg) | 146-90069- | | | |
| | 1/2" Sch 40 or 3/4" Sch 160 | 0.625" (15.87mm) | 0.562" (14.27mm) | 1/8" MNPT | 300 psi (20.68 bar) | 693 ft (211.22 m) | 1 Lb (0.45 Kg) | 146-90063- | | | |
| | 1/2" Sch 80 | 0.562" (14.27mm) | 0.51" (12.95mm) | 1/8" MNPT | 300 psi (20.68 bar) | 693 ft (211.22 m) | 1 Lb (0.45 Kg) | 146-90056- | | | |
| | 3/8" Sch 40 or 1/2" Sch 160 | 0.51" (12.95mm) | 0.44" (11.17mm) | 1/8" MNPT | 300 psi (20.68 bar) | 693 ft (211.22 m) | 1 Lb (0.45 Kg) | 146-90051- | | | |
| | 3/8" Sch 40 | 0.44" (11.17mm) | 0.406" (10.31mm) | 1/8" MNPT | 300 psi (20.68 bar) | 693 ft (211.22 m) | 1 Lb (0.45 Kg) | 146-90044- | | | |
| | N/A | 0.406" (10.31mm) | 0.375" (9.52mm) | 1/8" MNPT | 300 psi (20.68 bar) | 693 ft (211.22 m) | 1 Lb (0.45 Kg) | 146-90040- | | | |
| | | 0.39" (9.91mm) | 0.36" (9.14mm) | | 100 Psi (6.89 Bar) | 231 ft (70.42 m) | 1 Lb (0.45 Kg) | 146-90039- | | | |
| | | 0.35" (9mm) | 0.31" (8mm) | | 75 Psi (5.17 Bar) | 173.03 ft (52.74 m) | 0.5 Lb (0.23 Kg) | 146-90035- | | | |
| | | 0.31" (8mm) | 0.28" (7mm) | | 75 psi (5.17 bar) | 173 ft (52.74 m) | 0.5 Lb (0.23 Kg) | 146-90032- | | | |
| | | 0.299" (8mm) | 0.280" (7mm) | 1/8 M NPT | 250 psi (17.25 bar) | 577 ft (176.03 m) | 0.5 Lb (0.23 Kg) | 146-90030- | | | |
| | N/A | 0.23" (6mm) | 0.21" (5mm) | N/A | 150 Psi (10.34 Bar) | 346 ft (105.49 m) | 0.5 Lb (0.23 Kg) | 146-90022- | | | |
| | N/A | 0.207" (5.26mm) | 0.147" (3.73mm) | N/A | 185 Psi (12.76 Bar) | 427 ft (130.15 m) | 0.5 Lb (0.23 Kg) | 146-90018- | | | |