Pipe Plug, Mech High Pressure Test 145-9 Series
Available with solid rubber seals or inflatable seals. Standard seal pipe plug is Aluminum body with steel hardware and solid nitrile seal. We can make with EPDM and Viton seals as well as Steel or Stainless Steel body and hardware. Easy installation, replaceable seals, positive seal and engineered to restrain rated pipeline pressure
Typical Applications: Force and water main, lift stations, nuclear cooling lines, fire protection lines, special plant situations, irrigation supply lines, and many other projects where isolation is required for testing and construction.
These Seal Pipe Plugs may be manufactured for almost any pressure and for rectangular or other shaped opening.
Note: Rated pressures listed are for steel pipe only. Other pipe materials would have a lower pressure rating or require additional restraints.
145-9 Series Mechanical Plug Instruction Manual
Standard and Custom Plug Examples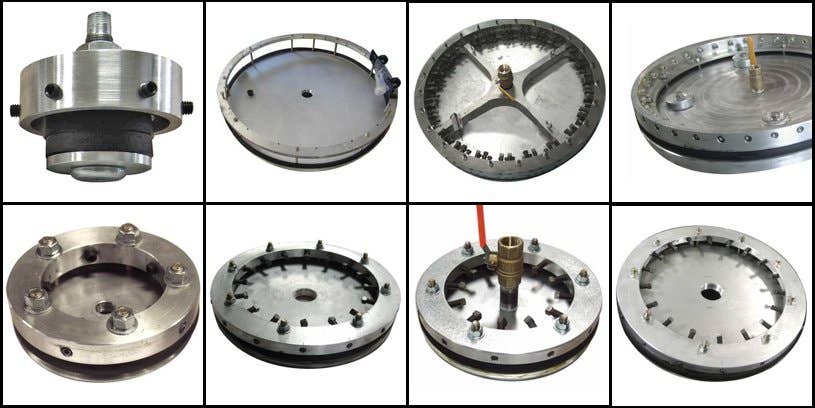 Other Sizes and Pressures Available

Pipe Plug, Mech High Pressure Test 145-9 Series
| Image | Pipe Size, Nominal | Dia. Max | Dia. Min | By-Pass | Pipeline Max PSI | Pipeline Max Head | Style | Shipping Wt. | Item Number | Price | Qty | Action |
| --- | --- | --- | --- | --- | --- | --- | --- | --- | --- | --- | --- | --- |
| | 36" Std | 35.875" (911mm) | 34.875" (886mm) | 2" F | 100 psi (6.89 bar) | 231 ft (70.41 m) | Internal to Pipe Plug | 176 Lb (79.83 Kg) | 145-9348- | | | |
| | | 34.875" (886mm) | 33.875" (860mm) | 2" F | 100 psi (6.89 bar) | 231 ft (70.41 m) | Internal to Pipe Plug | 170 Lb (77.11 Kg) | 145-9338- | | | |
| | | 33.875" (860mm) | 32.875" (835mm) | 2" F | 100 psi (6.89 bar) | 231 ft (70.41 m) | Internal to Pipe Plug | 165 Lb (74.84 Kg) | 145-9328- | | | |
| | | 32.875" (835mm) | 31.875" (810mm) | 2" F | 100 psi (6.89 bar) | 231 ft (70.41 m) | Internal to Pipe Plug | 158 Lb (71.67 Kg) | 145-9318- | | | |
| | 32" Std | 31.875" (810mm) | 30.875" (784mm) | 2" F | 100 psi (6.89 bar) | 231 ft (70.41 m) | Internal to Pipe Plug | 152 Lb (68.95 Kg) | 145-9308- | | | |
| | | 30.875" (784mm) | 29.875" (759mm) | 2" F | 100 psi (6.89 bar) | 231 ft (70.41 m) | Internal to Pipe Plug | 146 Lb (66.23 Kg) | 145-9298- | | | |
| | 30" Std | 29.875" (759mm) | 28.875" (733mm) | 2" F | 100 psi (6.89 bar) | 231 ft (70.41 m) | Internal to Pipe Plug | 140 Lb (63.5 Kg) | 145-9288- | | | |
| | | 28.875" (733mm) | 27.875" (708mm) | 2" F | 100 psi (6.89 bar) | 231 ft (70.41 m) | Internal to Pipe Plug | 130 Lb (58.97 Kg) | 145-9278- | | | |
| | 28" Std | 27.875" (708mm) | 26.875" (683mm) | 2" F | 100 psi (6.89 bar) | 231 ft (70.41 m) | Internal to Pipe Plug | 120 Lb (54.43 Kg) | 145-9268- | | | |
| | | 26.875" (683mm) | 25.875" (657mm) | 2" F | 100 psi (6.89 bar) | 231 ft (70.41 m) | Internal to Pipe Plug | 113 Lb (51.26 Kg) | 145-9258- | | | |
| | | 25.875" (657mm) | 24.875" (632mm) | 2" F | 100 psi (6.89 bar) | 231 ft (70.41 m) | Internal to Pipe Plug | 130 Lb (59 Kg) | 145-9248- | | | |
| | | 24.875" (632mm) | 23.875" (606mm) | 2" F | 100 psi (6.89 bar) | 231 ft (70.41 m) | Internal to Pipe Plug | 96 Lb (43.55 Kg) | 145-9238- | | | |
| | 24" Std | 23.875" (606mm) | 22.875" (581mm) | 1" F | 100 psi (6.89 bar) | 231 ft (70.41 m) | Internal to Pipe Plug | 85 Lb (38.56 Kg) | 145-9228- | | | |
| | | 22.875" (581mm) | 21.875" (556mm) | 1" F | 100 psi (6.89 bar) | 231 ft (70.41 m) | Internal to Pipe Plug | 78 Lb (35.38 Kg) | 145-9218- | | | |
| | 22" Std | 21.875" (556mm) | 20.875" (530mm) | 1" F | 100 psi (6.89 bar) | 231 ft (70.41 m) | Internal to Pipe Plug | 75 Lb (34.2 Kg) | 145-9208- | | | |
| | | 20.875" (530mm) | 19.875" (505mm) | 1" F | 100 psi (6.89 bar) | 231 ft (70.41 m) | Internal to Pipe Plug | 70 Lb (31.75 Kg) | 145-9198- | | | |
| | 20" Std | 19.875" (505mm) | 18.875" (479mm) | 1" F | 100 psi (6.89 bar) | 231 ft (70.41 m) | Internal to Pipe Plug | 65 Lb (29.48 Kg) | 145-9188- | | | |
| | | 18.875" (479mm) | 17.875" (454mm) | 1" F | 100 psi (6.89 bar) | 231 ft (70.41 m) | Internal to Pipe | 65 Lb (29.48 Kg) | 145-9178- | | | |
| | 18" Std | 17.875" (454mm) | 17.125" (435mm) | 1" F | 100 psi (6.89 bar) | 231 ft (70.41 m) | Internal to Pipe | 63 Lb (28.58 Kg) | 145-9171- | | | |
| | | 17.125" (435mm) | 16.375" (416mm) | 1" F | 100 psi (6.89 bar) | 231 ft (70.41 m) | Internal to Pipe | 63 Lb (28.58 Kg) | 145-9163- | | | |
| | | 16.375" (416mm) | 15.625" (397mm) | 1" F | 100 psi (6.89 bar) | 231 ft (70.41 m) | Internal to Pipe | 44 Lb (19.96 Kg) | 145-9156- | | | |
| | 16" Std | 15.625" (397mm) | 14.875" (378mm) | 1" F | 100 psi (6.89 bar) | 231 ft (70.41 m) | Internal to Pipe | 44 Lb (19.96 Kg) | 145-9148- | | | |
| | | 14.125" (359mm) | 13.375" (340mm) | 1/2" F | 100 psi (6.89 bar) | 231 ft (70.41 m) | Internal to Pipe | 34 Lb (15.42 Kg) | 145-9133- | | | |
| | 14" Std | 13.375" (340mm) | 12.625" (321mm) | 1/2" F | 100 psi (6.89 bar) | 231 ft (70.41 m) | Internal to Pipe | 34 Lb (15.42 Kg) | 145-9126- | | | |
| | | 12.625" (321mm) | 11.875" (302mm) | 1/2" F | 100 psi (6.89 bar) | 231 ft (70.41 m) | Internal to Pipe | 31 Lb (14.06 Kg) | 145-9118- | | | |
| | 12" SCH 80 | 11.875" (302mm) | 11.125" (283mm) | 1/2" F | 100 psi (6.89 bar) | 231 ft (70.41 m) | Internal to Pipe | 31 Lb (14.06 Kg) | 145-9111- | | | |
| | | 11.125" (283mm) | 10.625" (270mm) | 1/2" F | 100 psi (6.89 bar) | 231 ft (70.41 m) | Internal to Pipe | 31 Lb (14.06 Kg) | 145-9106- | | | |
| | | 10.625" (270mm) | 10.125" (257mm) | 1/2" F | 100 psi (6.89 bar) | 231 ft (70.41 m) | Internal to Pipe | 17 Lb (7.71 Kg) | 145-9101- | | | |
| | 10" Sch 40 | 10.125" (257mm) | 9.625" (244mm) | 1/2" F | 100 psi (6.89 bar) | 231 ft (70.41 m) | Internal to Pipe | 17 Lb (7.71 kg) | 145-9096- | | | |
| | 10" Sch 80 | 9.625" (244mm) | 9.125" (232mm) | 1/2" F | 100 psi (6.89 bar) | 231 ft (70.41 m) | Internal to Pipe | 14 Lb (6.35 Kg) | 145-9091- | | | |
| | | 9.125" (232mm) | 8.625" (219mm) | 1/2" F | 100 psi (6.89 bar) | 231 ft (70.41 m) | Internal to Pipe | 12 Lb (5.44 Kg) | 145-9086- | | | |
| | 10" Sch 160 | 8.625" (219mm) | 8.125" (206mm) | 1/2" NPT | 100 psi (6.89 bar) | 231 ft (70.41 m) | Internal to Pipe | 11 Lb (4.99 Kg) | 145-9081- | | | |
| | 8" Sch 40 | 8.125" (206mm) | 7.625" (194mm) | 1/2" F | 100 psi (6.89 bar) | 231 ft (70.41 m) | Internal to Pipe | 10 Lb (4.54 Kg) | 145-9076- | | | |
| | 8" Sch 80 | 7.625" (194mm) | 7.125" (181mm) | 1/2" F | 100 psi (6.89 bar) | 231 ft (70.41 m) | Internal to Pipe | 8 Lb (3.63 Kg) | 145-9071- | | | |
| | 8" Sch 160 | 7.125" (181mm) | 6.75" (171mm) | 1/2" F | 100 psi (6.89 bar) | 231 ft (70.41 m) | Internal to Pipe | 7 Lb (3.18 Kg) | 145-9067- | | | |
| | | 6.75" (171mm) | 6.375" (162mm) | 1/2" F | 100 psi (6.89 bar) | 231 ft (70.41 m) | Internal to Pipe | 6 Lb (2.72 Kg) | 145-9063- | | | |
| | 6" Sch 40 | 6.375" (162mm) | 6" (152mm) | 1/2" F | 100 psi (6.89 bar) | 231 ft (70.41 m) | Internal to Pipe | 6 Lb (2.72 Kg) | 145-9060- | | | |
| | 6" Sch 80 | 6" (152mm) | 5.625" (143mm) | 1/2" F | 100 psi (6.89 bar) | 231 ft (70.41 m) | Internal to Pipe | 5 Lb (2.27 Kg) | 145-9056- | | | |
| | | 5.625" (143mm) | 5.25" (133mm) | 1/4" F | 100 psi (6.89 bar) | 231 ft (70.41 m) | Internal to Pipe | 5 Lb (2.27 Kg) | 145-9052- | | | |
| | 5" Sch 40 or 6" Sch 160 | 5.25" (133mm) | 4.875" (124mm) | 1/4" F | 100 psi (6.89 bar) | 231 ft (70.41 m) | Internal to Pipe | 4 Lb (1.81 Kg) | 145-9048- | | | |
| | 5" Sch 80 | 4.875" (124mm) | 4.5" (114mm) | 1/4" F | 100 psi (6.89 bar) | 231 ft (70.41 m) | Internal to Pipe | 4 Lb (1.81 Kg) | 145-9045- | | | |
| | 5" Sch 160 | 4.5" (114mm) | 4.125" (105mm) | 1/4" F | 100 psi (6.89 bar) | 231 ft (70.41 m) | Internal to Pipe | 3 Lb (1.36 Kg) | 145-9041- | | | |
| | 4" Sch 40, Sch 80 | 4.125" (105mm) | 3.75" (95mm) | 1/4" F | 200 psi (13.79 bar) | 462 ft (140.82 m) | Internal to Pipe | 3 Lb (1.36 Kg) | 145-9037- | | | |
| | | 3.75" (95mm) | 3.562" (90mm) | 3/8" M | 200 psi (13.79 bar) | 462 ft (140.82 m) | End of Pipe | 3 Lb (1.36 Kg) | 145-9035- | | | |
| | 3-1/2" Sch 40 | 3.562" (90mm) | 3.375" (86mm) | 3/8" M | 200 psi (13.79 bar) | 462 ft (140.82 m) | End of Pipe | 3 Lb (1.36 Kg) | 145-9033- | | | |
| | 3-1/2" Sch 80 | 3.375" (86mm) | 3.188" (81mm) | 3/8" M | 200 psi (13.79 bar) | 462 ft (140.82 m) | End of Pipe | 3 Lb (1.36 Kg) | 145-9031- | | | |
| | 3" Sch 40 | 3.188" (81mm) | 3" (76mm) | 3/8" M | 200 psi (13.79 bar) | 462 ft (140.82 m) | End of Pipe | 3 Lb (1.36 Kg) | 145-9030- | | | |
| | 3" Sch 80 | 3" (76mm) | 2.812" (71mm) | 3/8" M | 200 psi (13.79 bar) | 462 ft (140.82 m) | End of Pipe | 2 Lb (0.91 Kg) | 145-9028- | | | |
| | | 2.812" (71mm) | 2.625" (67mm) | 3/8" M | 200 psi (13.79 bar) | 462 ft (140.82 m) | End of Pipe | 2 Lb (0.91 Kg) | 145-9026- | | | |
| | 2-1/2" Sch 40 | 2.625" (67mm) | 2.469" (63mm) | 3/8" M | 200 psi (13.79) | 462 ft (140.82 m) | End of Pipe | 2 Lb (0.91 Kg) | 145-9024- | | | |
| | 2" Sch 40 & Sch 80 | 2.1" (53.34mm) | 1.9" (48.26mm) | 3/8" M | 200 psi (13.79) | 462 ft (140.82 m) | End of Pipe | 2 Lb (0.91 Kg) | 145-9020- | | | |