Pipe Plug, Very High PSI, Bypass, 147-1 Series
Double Block and Bleed Isolation Test Plug
Positively isolate and monitor potentially explosive vapors during hot work, then effectively hydrotest the new weld connection with this Double Block and Bleed Isolation Plug. The dual-port design of this mechanical plug for hydrotesting creates a positive pressure barrier between the seals - safely isolating hot work from any residual upstream gases. In addition, the volume of water required for a test is so small that testing can be accomplished using a hand pump.
Lightweight aluminum/steel construction makes our hydro test isolation pipe plug for pressure testing easy to maneuver, often allowing operators to forego the use of lifting devices or cranes, which can be in high demand during turnarounds.
Our 8" schedule 80 Double Block and Bleed Isolation Plug weighs in at just 36lbs (16.3kg) compared to other plugs weighing in excess of 100lbs (45.4kg) of the same size!
Operating Instructions - under 8"
Operating Instructions - over 8"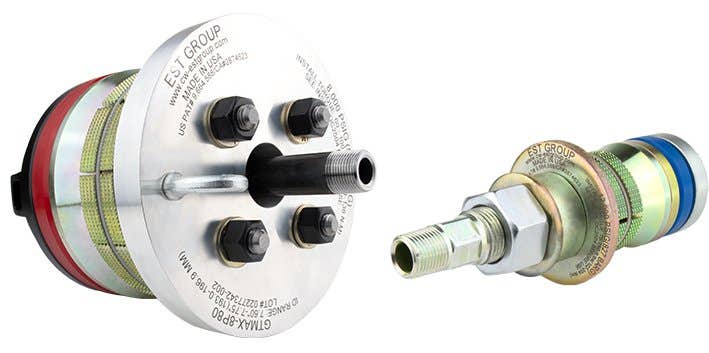 Typical multiple and single shaft configurations
Test Pressure
2250 PsiG (155 BarG)
Upstream pressure rated to 10 PsiG (0.7 BarG) - higher pressures available upon request
Size Range
3/4" to 48" NPS (DN20 to DN1200) - larger sizes available upon request
Standard Seal Material
Urethane
Alternate materials available
Features & Benefits
Lightweight, aluminum and steel construction
Monitor potentially explosive vapors during hot work
The dual-port system allows water to be circulated between seals, providing improved cooling during pre/post-weld procedures
Uses less than a gallon (3.8L) of test media – cutting down on fill times and reducing waste/treatment expenses.
ASME PCC-2 Type IV Testing Device*
Test pressures to 2250 PsiG (155 BarG) between the seals
Available for NPS ranging from 3/4" to 24" (DN20 - DN600)
Pressure tests performed with less than a gallon of water
Double Block & Bleed Applications
Block & Bleed plugs are found in numerous applications, including:
Oil, Gas and Chemical Process Plants
Offshore Oil & Gas Platforms
Shipyards
Plant revamps and additions
Piping Systems, Spools, Pressure Vessels with Flanged Connections
Flange Replacement Programs
Tie-In Work
Basic Operation
After determining pipe and schedule size, install DBB upstream of "hot work" area
Expand seals by tightening compression nuts
Inject inert gas or water between seals (isolation zone) and pressurize
Monitor isolation zone pressure during "hot work"
After weld cools, release pressure and seal, reposition the plug's isolation zone over the weld area
Pressurize isolation zone
See instructions link above for more details

Pipe Plug, Very High PSI, Bypass, 147-1 Series
| Pipe Size, Nominal | Pipe Schedule | Dia. Functional ID | By-Pass Size | Press., Max Test, PSI | Shipping Wt. | Item Number | Price | Qty | Action |
| --- | --- | --- | --- | --- | --- | --- | --- | --- | --- |
| 24" (609.6mm) | 120 | 20.26"-20.95" (514.6mm-532.1mm) | 2" MNPT | 5,000 psi (344.7 bar) | 598 Lb (271.24 Kg) | 147-1240-P120M | | | |
| 24" (609.6mm) | 100 | 20.82"-21.45" (528.8mm-544.8mm) | 2" MNPT | 5,000 psi (344.7 bar) | 624 Lb (283 Kg) | 147-1240-P100M | | | |
| 22" (558.8mm) | 80 | 19.63"-20.16" (498.6mm-512.1mm) | 2" MNPT | 5,000 psi (344.7 bar) | 568 Lb (257.64 Kg) | 147-1220-P80M | | | |
| 22" (558.8mm) | 60 | 20.13"-20.59" (511.3mm-523mm) | 2" MNPT | 5,000 psi (344.7 bar) | 592 Lb (268.52 Kg) | 147-1220-P60M | | | |
| 22" (558.8mm) | 100 | 19.17"-19.72" (486.9mm-500.9mm) | 2" MNPT | 5,000 psi (344.7 bar) | 544 Lb (246.75 Kg) | 147-1220-P100M | | | |
| 20" (508mm) | STD / 20 | 19.17"-19.72" (486.9mm-500.9mm) | 2" MNPT | 3,000 psi (206.8 bar) | 544 Lb (246.75 Kg) | 147-1200-PSTDM | | | |
| 20" (508mm) | 80 | 17.86"-18.32" (453.6mm-465.3mm) | 2" MNPT | 5,000 psi (344.7 bar) | 471 Lb (213.64 Kg) | 147-1200-P80M | | | |
| 20" (508mm) | 60 | 18.30"-18.76" (464.8mm-476.5mm) | 2" MNPT | 5,000 psi (344.7 bar) | 497 Lb (225.44 Kg) | 147-1200-P60M | | | |
| 20" (508mm) | 40 | 18.73"-19.19" (475.7mm-487.4mm) | 2" MNPT | 5,000 psi (344.7 bar) | 520 Lb (235.86 Kg) | 147-1200-P40M | | | |
| 20" (508mm) | 10 / 10S / 5 | 19.48"-19.94" (494.8mm-506.5mm) | 2" MNPT | 3,000 psi (206.8 bar) | 560 Lb (254 Kg) | 147-1200-P10M | | | |
| 20" (508mm) | 100 | 17.36"-17.88" (440.9mm-454.2mm) | 2" MNPT | 5,000 psi (344.7 bar) | 442 Lb (200.48 Kg) | 147-1200-P100M | | | |
| 18" (457.2mm) | XS | 16.92"-17.38" (429.8mm-441.5mm) | 2" MNPT | 5,000 psi (344.7 bar) | 414 Lb (187.78 Kg) | 147-1180-PXSM | | | |
| 18" (457.2mm) | STD | 17.17"-17.63" (436.1mm-447.8mm) | 2" MNPT | 3000 psi (206.8 bar) | 430 Lb (195 Kg) | 147-1180-PSTDM | | | |
| 18" (457.2mm) | 80 | 16.04"-16.5" (407.4mm-419.1mm) | 2" MNPT | 5,000 psi (344.7 bar) | 358 Lb (162.39 Kg) | 147-1180-P80M | | | |
| 18" (457.2mm) | 60 | 16.42"-16.88" (417.1mm-428.8mm) | 2" MNPT | 5,000 psi (344.7 bar) | 383 Lb (173.72 Kg) | 147-1180-P60M | | | |
| 18" (457.2mm) | 40 | 16.8"-17.26" (426.7mm-438.4mm) | 2" MNPT | 5,000 psi (344.7 bar) | 407 Lb (184.61 Kg) | 147-1180-P40M | | | |
| 18" (457.2mm) | 30 | 17.04"-17.5" (432.8mm-444.5mm) | 2" MNPT | 5,000 psi (344.7 bar) | 422 Lb (191.42 Kg) | 147-1180-P30M | | | |
| 18" (457.2mm) | 20 | 17.3"-17.76" (439.4mm-451.1mm) | 2" MNPT | 3,000 psi (206.8 bar) | 438 Lb (198.67 Kg) | 147-1180-P20M | | | |
| 18" (457.2mm) | 120 | 15.17"-15.69" (385.3mm-398.5mm) | 2" MNPT | 5,000 psi (344.7 bar) | 298 Lb (135.17 Kg) | 147-1180-P120M | | | |
| 18" (457.2mm) | 10 | 17.42"-17.88" (442.5mm-454.2mm) | 2" MNPT | 3,000 psi (206.8 bar) | 445 Lb (201.85 Kg) | 147-1180-P10M | | | |
| 18" (457.2mm) | 100 | 15.61"-16.07" (396.5mm-408.2mm) | 2" MNPT | 5,000 psi (344.7 bar) | 329 Lb (149.23 Kg) | 147-1180-P100M | | | |
| 16" (406.4mm) | STD / 30 | 15.17"-15.69" (385.3mm-398.5mm) | 2" MNPT | 3,000 psi (206.8 bar) | 298 Lb (135.17 Kg) | 147-1160-PSTDM | | | |
| 16" (406.4mm) | 80 | 14.23"-14.69" (361.4mm-373.1mm) | 1" MNPT | 5,000 psi (344.7 bar) | 246 Lb (111.58 Kg) | 147-1160-P80M | | | |
| 16" (406.4mm) | 60 | 14.61"-15.07" (371.1mm-382.8mm) | 2" MNPT | 5,000 psi (344.7 bar) | 258 Lb (117 Kg) | 147-1160-P60M | | | |
| 16" (406.4mm) | 40 / XS | 14.92"-15.38" (379mm-390.7mm) | 2" MNPT | 5,000 psi (344.7 bar) | 280 Lb (127 Kg) | 147-1160-P40M | | | |
| 16" (406.4mm) | 20 | 15.30"-15.76" (388.6mm-400.3mm) | 2" MNPT | 3,000 psi (206.8 bar) | 307 Lb (139.25 Kg) | 147-1160-P20M | | | |
| 16" (406.4mm) | 120 | 13.48"-13.96" (342.4mm-354.6mm) | 1" MNPT | 5,000 psi (344.7 bar) | 218 Lb (98.88 Kg) | 147-1160-P120M | | | |
| 16" (406.4mm) | 10 | 15.42"-15.88" (391.7mm-403.4mm) | 2" MNPT | 3,000 psi (206.8 bar) | 315 Lb (142.88 Kg) | 147-1160-P10M | | | |
| 16" (406.4mm) | 100 | 13.86"-14.32" (352mm-363.7mm) | 1" MNPT | 5,000 psi (344.7 bar) | 232 Lb (105.23 Kg) | 147-1160-P100M | | | |
| 14" (355.6mm) | XS | 12.92"-13.38" (328.2mm-339.9mm) | 1" MNPT | 5,000 psi (344.7 bar) | 199 Lb (90.27 Kg) | 147-1140-PXSM | | | |
| 14" (355.6mm) | 80 | 12.42"-12.88" (315.5mm-327.2mm) | 1" MNPT | 5,000 psi (344.7 bar) | 183 Lb (83 Kg) | 147-1140-P80M | | | |
| 14" (355.6mm) | 60 | 12.73"-13.19" (323.3mm-335mm) | 1" MNPT | 5,000 psi (344.7 bar) | 193 Lb (87.54 Kg) | 147-1140-P60M | | | |
| 14" (355.6mm) | 40 | 13.04"-13.50" (331.2mm-342.9mm) | 1" MNPT | 5,000 psi (344.7 bar) | 203 Lb (92.08 Kg) | 147-1140-P40M | | | |
| 14" (355.6mm) | 20 | 13.30"-13.76" (337.8mm-349.5mm) | 1" MNPT | 3,000 psi (206.8 bar) | 212 Lb (96.16 Kg) | 147-1140-P20M | | | |
| 14" (355.6mm) | 140 | 11.42"-11.91" (290.1mm-302.5mm) | 1" MNPT | 5,000 psi (344.7 bar) | 154 Lb (69.85 Kg) | 147-1140-P140M | | | |
| 14" (355.6mm) | 120 | 11.73"-12.19" (297.9mm-309.6mm) | 1" MNPT | 5,000 psi (344.7 bar) | 163 Lb (74 Kg) | 147-1140-P120M | | | |
| 14" (355.6mm) | 10 | 13.41"-13.87" (340.6mm-352.3mm) | 1" MNPT | 3,000 psi (206.8 bar) | 216 Lb (97.98 Kg) | 147-1140-P10M | | | |
| 14" (355.6mm) | 100 | 12.04"-12.50" (305.8mm-317.5mm) | 1" MNPT | 5,000 psi (344.7 bar) | 172 Lb (78 Kg) | 147-1140-P100M | | | |
| 12" (304.8mm) | XS | 11.67"-12.13" (296.4mm-308.1mm) | 1" MNPT | 5,000 psi (344.7 bar) | 161 Lb (73.03 Kg) | 147-1120-PXSM | | | |
| 12" (304.8mm) | 80 | 11.29"-11.75" (286.8mm-298.5mm) | 1" MNPT | 5,000 psi (344.7 bar) | 150 Lb (68.04 Kg) | 147-1120-P80M | | | |
| 12" (304.8mm) | 60 | 11.55"-12.01" (293.4mm-305.1mm) | 1" MNPT | 5,000 psi (344.7 bar) | 157 Lb (71.21 Kg) | 147-1120-P60M | | | |
| 12" (304.8mm) | 40 / STD | 11.92"-12.38" (302.8mm-314.5mm) | 1" MNPT | 3,000 psi (207 bar) | 168 Lb (76.20 Kg) | 147-1120-P40M | | | |
| 12" (304.8mm) | 30 | 12.01"-12.47" (305.1mm-316.7mm) | 1" MNPT | 3,000 psi (207 bar) | 171 Lb (77.56 Kg) | 147-1120-P30M | | | |
| 12" (304.8mm) | 20 | 12.17"-12.63" (309.1mm-320.8mm) | 1" MNPT | 3,000 psi (207 bar) | 175 Lb (79.38 Kg) | 147-1120-P20M | | | |
| 12" (304.8mm) | 10S / 5 | 12.3"-12.76" (312.4mm-324.1mm) | 1" MNPT | 3,000 psi (207 bar) | 179 Lb (81.19 Kg) | 147-1120-P10M | | | |
| 10" (254mm) | XS/60 | 9.67"-10.13" (245.6mm-257.3mm) | 1" MNPT | 5,000 psi (345 bar) | 112 Lb (50.8 Kg) | 147-1100-PXSM | | | |
| 10" (254mm) | 80 | 9.48"-9.94" (240.8mm-252.5mm) | 1" MNPT | 5,000 psi (345 bar) | 108 Lb (48.99 Kg) | 147-1100-P80M | | | |
| 10" (254mm) | 40/STD | 9.94"-10.4" (252.5mm-264.2mm) | 1" MNPT | 3,000 psi (207 bar) | 118 Lb (53.52 Kg) | 147-1100-P40M | | | |
| 10" (254mm) | 30 | 10.06"-10.52" (255.5mm-267.2mm) | 1" MNPT | 3,000 psi (207 bar) | 120 Lb (54 Kg) | 147-1100-P30M | | | |
| 10" (254mm) | 20 | 10.17"-10.63" (258.3mm-270mm) | 1" MNPT | 3,000 psi (207 bar) | 123 Lb (55.79 Kg) | 147-1100-P20M | | | |
| 10" (254mm) | 10S | 10.34"-10.8" (262.6mm-274.3mm) | 1" MNPT | 3,000 psi (207 bar) | 127 Lb (58 Kg) | 147-1100-P10M | | | |
| 10" (254mm) | 100 | 9.23"-9.69" (234.4mm-246.1mm) | 1" MNPT | 5,000 psi (344.7 bar) | 103 Lb (46.72 Kg) | 147-1100-P100M | | | |
| 8" (203.2mm) | XXS | 6.85"-7.09" (174mm-180.1mm) | 3/4 MNPT | 8,000 psi (552 bar) | 50 Lb (22.68 Kg) | 147-1080-PXXS | | | |
| 8" (203.2mm) | 80 / XS | 7.6"-7.75" (193mm-196.9mm) | 3/4 MNPT | 8,000 psi (552 bar) | 63 Lb (28.57 Kg) | 147-1080-P80 | | | |
| 8" (203.2mm) | 60 | 7.78"-7.93" (197.6mm-201.4mm) | 3/4 MNPT | 8,000 psi (552 bar) | 67 Lb (30.39 Kg) | 147-1080-P60 | | | |
| 8" (203.2mm) | 5 | 8.38"-8.53" (212.9mm-216.7mm) | 3/4 MNPT | 8,000 psi (552 bar) | 78 Lb (35.38 Kg) | 147-1080-P5 | | | |
| 8" (203.2mm) | 40 / STD | 7.95"-8.1" (201.9mm-205.7mm) | 3/4 MNPT | 8,000 psi (552 bar) | 70 Lb (31.75 Kg) | 147-1080-P40 | | | |
| 8" (203.2mm) | 30 | 8.04"-8.19" (204.2mm-208mm) | 3/4 MNPT | 8,000 psi (552 bar) | 72 Lb (32.66 Kg) | 147-1080-P30 | | | |
| 8" (203.2mm) | 20 | 8.1"-8.25" (205.7mm-209.6mm) | 3/4 MNPT | 8,000psi (552 bar) | 73 Lb (33.11 Kg) | 147-1080-P20 | | | |
| 8" (203.2mm) | 160 | 6.78"-7.04" (172.2mm-178.8mm) | 3/4 MNPT | 8,000 psi (552 bar) | 49 Lb (22.23 Kg) | 147-1080-P160 | | | |
| 8" (203.2mm) | 140 | 6.97"-7.20" (177mm-182.9mm) | 3/4 MNPT | 8,000 psi (552bar) | 52 Lb (23.5 Kg) | 147-1080-P140 | | | |
| 8" (203.2mm) | 120 | 7.16"-7.37" (181.9mm-187.2mm) | 3/4 MNPT | 8,000 psi (552 bar) | 55 Lb (24.94 Kg) | 147-1080-P120 | | | |
| 8" (203.2mm) | 100 | 7.41"-7.59" (188.2mm-192.8mm) | 3/4 MNPT | 8,000 psi (552 bar) | 60 Lb (27.22 Kg) | 147-1080-P100 | | | |
| 8" (203.2mm) | 10 | 8.3"-8.45" (210.8mm-214.6mm) | 3/4 MNPT | 8,000 psi (552 bar) | 77 Lb (34.93 Kg) | 147-1080-P10 | | | |
| 6" (152.4mm) | XXS | 4.87"-5.11" (123.7mm-129.8mm) | 1/2 MNPT | 8,000 psi (552 bar) | 23 Lb (10.5 Kg) | 147-1060-PXXS | | | |
| 6" (152.4mm) | 80 / XS | 5.73"-5.87" (145.5mm-149.1mm) | 1/2 MNPT | 8,000 psi (552 bar) | 33 Lb (14.97 Kg) | 147-1060-P80 | | | |
| 6" (152.4mm) | 5 | 6.38"-6.52" (162.1mm-165.6mm) | 3/4 MNPT | 8,000 psi (552 bar) | 43 Lb (19.50 Kg) | 147-1060-P5 | | | |
| 6" (152.4mm) | 40 / STD | 6.04"-6.17" (153.4mm-156.7mm) | 1/2 MNPT | 8000 psi (552 bar) | 37 Lb (16.78 Kg) | 147-1060-P40 | | | |
| 6" (152.4mm) | 160 | 5.16"-5.37" (131.1mm-136.4mm) | 1/2 MNPT | 8,000 psi (552 bar) | 26 Lb (11.79 Kg) | 147-1060-P160 | | | |
| 6" (152.4mm) | 120 | 5.47"-5.64" (138.9mm-143.3mm) | 1/2 MNPT | 8,000 psi (552 bar) | 30 Lb (13.61Kg) | 147-1060-P120 | | | |
| 6" (152.4mm) | 10 | 6.33"-6.47" (160.8mm-164.3mm) | 3/4 MNPT | 8,000 psi (552 bar) | 42 Lb (19.05 Kg) | 147-1060-P10 | | | |
| 5" (127mm) | XXS | 4.03"-4.25" (102.4mm-108mm) | 1/2 MNPT | 8,000 psi (552 bar) | 14 Lb (6.35 Kg) | 147-1050-PXXS | | | |
| 5" (127mm) | 80 / XS | 4.78"-4.91" (121.4mm-124.7mm) | 3/4 MNPT | 8,000 psi (552 bar) | 21 Lb (9.53 Kg) | 147-1050-P80 | | | |
| 5" (127mm) | 5 | 5.32"-5.44" (135.1mm-138.2mm) | 1/2 MNPT | 8,000 psi (552 bar) | 28 Lb (12.7 Kg) | 147-1050-P5 | | | |
| 5" (127mm) | 40 / STD | 5.02"-5.14" (127.5mm-130.6mm) | 1/2 MNPT | 8,000 psi (552 bar) | 24 Lb (10.88 Kg) | 147-1050-P40 | | | |
| 5" (127mm) | 160 | 4.28"-4.47" (108.7mm-113.5mm) | 3/4 MNPT | 10,000 psi (689 bar) | 18 Lb (8.16 Kg) | 147-1050-P160 | | | |
| 5" (127mm) | 120 | 4.53"-4.69" (115.1mm-119.1mm) | 3/4 MNPT | 8,000 psi (552 bar) | 19 Lb (8.73 Kg) | 147-1050-P120 | | | |
| 4" (101.6mm) | XXS | 3.12"-3.32" (79.2mm-84.3mm) | 1/2 MNPT | 10,000 psi (689 bar) | 8.75 Lb (3.97 Kg) | 147-1040-PXXS | | | |
| 4" (101.6mm) | 80 / XS | 3.8"-3.91" (96.5mm-99.3mm) | 1/2 MNPT | 10,000 psi (689 bar) | 11 Lb (4.99 Kg) | 147-1040-P80 | | | |
| 4" (101.6mm) | 5 | 4.28"-4.47" (108.7mm-113.5mm) | 3/4 MNPT | 10,000 psi (689 bar) | 18 Lb (8.16 Kg) | 147-1040-P5 | | | |
| 4" (101.6mm) | 40 / STD | 4"-4.11" (101.6mm-104.4mm) | 1/2 MNPT | 10,000 psi (689 bar) | 12 Lb (5.44 Kg) | 147-1040-P40 | | | |
| 4" (101.6mm) | 160 | 3.41"-3.57" (86.6mm-90.7mm) | 1/2 MNPT | 10,000 psi (689 bar) | 10 Lb (4.54 Kg) | 147-1040-P160 | | | |
| 4" (101.6mm) | 120 | 3.6"-3.74" (91.4mm-95mm) | 1/2 MNPT | 10,000 psi (689 bar) | 10 Lb (4.54 Kg) | 147-1040-P120 | | | |
| 4" (101.6mm) | 10 | 4.23"-4.34" (107.4mm-110.2mm) | 1/2 MNPT | 10,000 psi (689 bar) | 13 Lb (5.89 Kg) | 147-1040-P10 | | | |
| 3.5" (88.9mm) | XXS | 2.7"-2.89" (68.6mm-73.4mm) | 1/2 MNPT | 10,000 psi (689 bar) | 7.5 Lb (3.40 Kg) | 147-1035-PXXS | | | |
| 3.5" (88.9mm) | 80 / XS | 3.33"-3.44" (84.6mm-87.4mm) | 1/2 MNPT | 10,000 psi (689 bar) | 8.75 Lb (4 Kg) | 147-1035-P80 | | | |
| 3.5" (88.9mm) | 5 | 3.8"-3.91" (96.5mm-99.3mm) | 1/2 MNPT | 10,000 psi (689 bar) | 11 Lb (5 Kg) | 147-1035-P5 | | | |
| 3.5" (88.9mm) | 40 / STD | 3.52"-3.63" (89.4mm-92.2mm) | 1/2 MNPT | 10,000 psi (689 bar) | 9.5 Lb (4.31 Kg) | 147-1035-P40 | | | |
| 3.5" (88.9mm) | 10 | 3.73"-3.84" (94.7mm-97.5mm) | 1/2 MNPT | 10,000 psi (689 bar) | 10.5 Lb (4.76 Kg) | 147-1035-P10 | | | |
| 3" (76.2mm) | XXS | 2.27"-2.45" (57.7mm-62.2mm) | 3/8 MNPT | 12,000 psi (827 bar) | 3.5 Lb (1.59 Kg) | 147-1030-PXXS | | | |
| 3" (76.2mm) | 80 / XS | 2.87"-2.98" (72.9mm-75.7mm) | 1/2 MNPT | 12,000 psi (827 bar) | 7.5 Lb (3.40 Kg) | 147-1030-P80 | | | |
| 3" (76.2mm) | 5 | 3.3"-3.41" (83.8mm-86.6mm) | 1/2 MNPT | 12,000 psi (827bar) | 8.5 Lb (3.85 Kg) | 147-1030-P5 | | | |
| 3" (76.2mm) | 40 / STD | 3.04"-3.14" (77.2mm-79.8mm) | 1/2 MNPT | 12,000 psi (827 bar) | 8 Lb (3.63 Kg) | 147-1030-P40 | | | |
| 3" (76.2mm) | 160 | 2.6"-2.74" (66mm-69.6mm) | 1/2 MNPT | 12,000 psi (827 bar) | 6.75 Lb (3.06 Kg) | 147-1030-P160 | | | |
| 3" (76.2mm) | 10 | 3.23"-3.34" (82mm-84.8mm) | 1/2 MNPT | 12,000 psi (827 bar) | 8.25 Lb (3.74 Kg) | 147-1030-P10 | | | |
| 2.5" (63.5mm) | XXS | 1.74"-1.91" (44.2mm-48.5mm) | 3/8 MNPT | 15,000 psi (1034 bar) | 2.5 Lb (1.13 Kg) | 147-1025-PXXS | | | |
| 2.5" (63.5mm) | 80 / XS | 2.27"-2.45" (57.7mm-62.2mm) | 3/8 MNPT | 12,000 psi (827 bar) | 3.5 Lb (1.59 Kg) | 147-1025-P80 | | | |
| 2.5" (63.5mm) | 5 | 2.68"-2.78" (68.1mm-70.6mm) | 1/2 MNPT | 12,000 psi (827 bar) | 7 Lb (3.18 Kg) | 147-1025-P5 | | | |
| 2.5" (63.5mm) | 40 / STD | 2.44"-2.54" (62mm-64.5mm) | 1/2 MNPT | 12,000 psi (827 bar) | 6 Lb (2.72 Kg) | 147-1025-P40 | | | |
| 2.5" (63.5mm) | 160 | 2.1"-2.22" (53.3mm-56.4mm) | 3/8 MNPT | 12,000 psi (827 bar) | 3.5 Lb (1.59 Kg) | 147-1025-P160 | | | |